Palm Tours and Safaris is specialized in serving great services to these guests categories.
RETIREES: These are those guests who have already retired and they are looking for a better place to:
a) Enjoy relax and get themselves energetic.
b)See other opportunities for their lives after retirement.
They are always sensitive guests who need more privacy and quietness. We have special hotels and treatments for these guests.
HONEYMOON: Those who are new in marriage life and they are looking for the best place to enjoy their 9 days just after the marriage. Always, they need a very private area to be freer. In Zanzibar, we have these types of lodges where these guests will be treated as king and queen.
ANNIVERSARY PEOPLE: These are the guests who need to celebrate their days after completing a certain phenomenon in a specific period of time. In Zanzibar, we have special hotels to keep them as they need more leisure and celebrations.
FAMILIES: These are the types of guests who need to make their families happy. So they need a very safe place and comfortable place to enjoy with their kids. They also need a place where there are kids' games facilities. we normally take them to the Animal parks where they will enjoy themselves with animals.
Therefore, if you are one of the above guests, then you are in a right place. Click the menu of Booking to book your package.
FRIENDS: We have a very wonderful package for the groups. We have friendly activities for the groups that will give you a complete leisure.
                                                                                                          **KARIBU ZANZIBAR**
''We actually did Stone tour and Spice market exploration. We went to the center where slave trade happened in the past and we got an overview of how it was equally abolished. We further discussed a lot about emancipation of the great people of Zanzibar and its diverse cultural heritage indeed Palm Tours remains the best and the astute tour Guide Mr. Yahya did justice for easy assimilation. Our Experience was a memorable one and I almost cried leaving ZANZIBAR''.
After the enjoyment ,this is what our guests say.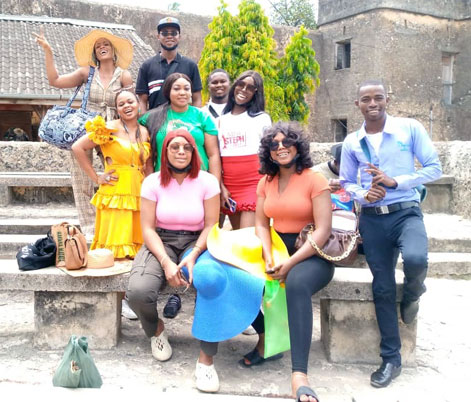 ''Professional and Spot On. I discussed with them on what I was looking at in creating a Zanzibar itinerary for my tour agency, came on a familiarization trip without even meeting them and it turned out amazing. From pick up at the port to transfers and all. I would highly recommend.''